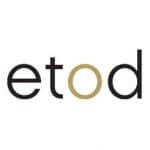 Executive Talent On Demand
Toronto – ON
EToD is actively searching for a Hardware Design Technical Specialist for a 12-month contract opportunity with one of our leading clients.
Key Responsibilities:
• Prepare specifications for hardware and/or software components
• Lead designers to assist on projects
• Manage assigned tasks, schedule and budget; keep track of progress
• Ensure that all tasks go according to schedule, within budget, and align with all requirements
• Generate accurate estimates and provide new estimates to various departments
Key Qualifications:
• 8+ years of related work experience within the Railway industry
• Post-secondary Technologist diploma or Electrical or Electronics Engineering degree
• Proficient with development tools, CAD packages (Microstation, AutoCAD)
• Knowledge of Seltrac, Bills of Materials, (SAP), Configuration Management, Clearquest, and Microsoft Office suite
• An advanced level of experience with effective hardware application design, products and processes
Don't miss a challenging and rewarding opportunity or at least the best video interview ever! If you are interested, please contact linda.fernandes@marketersondemand.com aka "VP of Recruitment".
Have a referral? Get paid up to $1,500 if they're hired!
Share in your network by selecting one of the social media buttons below!